Contact Us
Dr. Anna Burrows
Medical Specialist in Gynaecology
For all appointments and enquiries, please call (07) 3831 1877
Informed Financial Consent Information – click here.
Request a Booking/ Appointment
Dr. Anna Burrows
Level 3, Wickham House
155 Wickham Terrace
Spring Hill Q 4000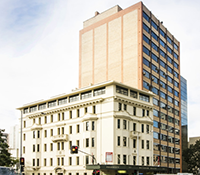 Office hours: 8.00 AM till 4.40 PM Monday – Friday
Tel: (07) 3831 1877

Fax: (07) 3831 1977
Public Transport
Central Station . There is a convenient pedestrian tunnel underneath platforms 5 and 6. Walk towards the Wickham Terrace exit and the elevator will take you directly to Wickham Terrace. Cross at the lights and Wickham House, our building, is directly in front of you. The covered walkway takes less than 5 minutes.
Buses – refer to the many options close to Wickham Terrace on translink.com.au
Standard Parking
Brisbane City Council Car Park

(directly across the road from us with entry via Turbot Street)
Please note that due to Council Early Bird Parking it is extremely difficult to park here between 9 am and 1 pm. Allow time before your appointment/ seek alternative parking to avoid stress.*
Some Metered Street Parking

(note Brisbane City Council signage)
First Parking 67Astor Terrace Spring Hill
Astor Terrace Car Park 28 Astor Terrace Spring Hill
We are on

Facebook, click here to find out more.